Accused's bail refused in Alliance office bomb case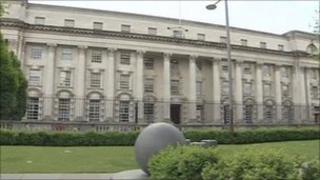 A judge has ruled that a taxi driver allegedly linked to a dissident republican pipe bomb attack on the Alliance Party's headquarters, must stay in custody due to the risk to the public.
Francis Carleton, 37, of Conor Rise, Belfast, denies a charge of possessing explosives with intent to endanger life or cause serious injury.
He was arrested in the university area in Belfast last week.
Bail was refused on Friday.
Mr Carleton was arrested along with another suspect after a bomb was thrown over a wall at the back of the Alliance Party offices in University Street.
He claimed he innocently picked up a fare without knowing about the pipe bomb.
He told police he had been flagged down near the city's Falls Road and asked to drive to the Whiterock area and Queen's University.
Bail opposed
A crown lawyer said he claimed that when he parked the car close to the offices, his co-accused got out and was out of sight for around 30 seconds.
Police intervened as the second man was returning to the vehicle, the court heard.
Bail was opposed due to Mr Carleton's alleged involvement in the bomb plot.
Although he has not been charged with paramilitary membership, it was claimed that the attack was part of a two-day campaign by dissident republicans designed to cause significant disruption.
Mr Carleton's barrister strenuously rejected the allegations and said his client was not connected to any coordinated series of incidents.
It was also emphasised that Mr Carleton answered police questions after caution and provided details of his vehicle's movements.
Ruling on the bail application, Lord Justice Higgins stressed that the hearing was not to decide guilt or innocence.
The judge said: "The undisputed facts appear to be that the applicant and his co-accused transported an explosive device across Belfast to where it was thrown at the Alliance Party premises.
"The police view is this incident is linked to a series of incidents organised and orchestrated by (those) who conspire to bring about political change by violence.
"Such persons are organised and committed to their objectives and prepared to maintain a campaign."
The judge set out the perceived threat of further offences and connected risk to the public.
He added: "I am satisfied such a real risk is made out in this case, therefore I refuse the application for bail."