Businessman Peter Curistan's Anglo Irish Bank challenge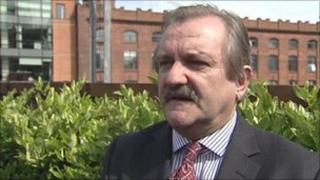 A Belfast businessman has launched legal proceedings claiming that the appointment of an administrator to his company was invalid.
Peter Curistan's challenge to Anglo Irish Bank is part of a wider dispute over its handling of his company, Sheridan Millennium.
It held a long-term lease on part of the Odyssey Pavillion until placed into administration a year ago.
Mr Curistan said the move did not meet statutory administration objectives.
He said the three objectives were
to rescue the company as a going concern
achieve a better result for creditors than if it was wound up
or realise property to make a distribution to one or more secured or preferential creditors
In legal documents, Mr Curistan has argued that Anglo may have sought to appoint an administrator to "stymie" current legal proceedings by Sheridan Millennium against the bank.
A further hearing of the case is due to take place at the High Court later this month.