Northern Bank seeks fire engine firm AssestCo's debt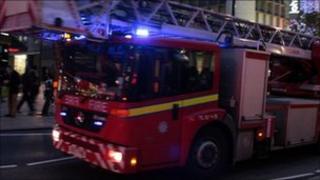 The Northern Bank has started legal action to recover £1.3m from a company which owns London's fire engines.
The action could force the firm, called AssetCo, into administration.
The London Fire brigade union said it is worried about the possible consequences.
AssetCo recently ran into financial problems and the Belfast-based Northern Bank has confirmed that it has lodged a creditor's petition to try to recover the £1.3m it says it is owed.
If the money is not paid, AssestCo could move towards insolvency and possible administration.
The London Fire Brigade union said the company's financial situation is creating insecurity for the fire service in London.
AssestCo has declined to comment.
If the Northern Bank's debt is not re-paid, the petition will be heard at the end of the month.