Woman tried to fight fire at Belfast city apartment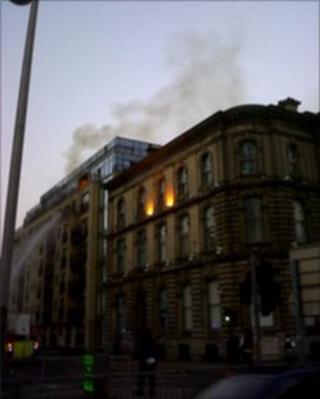 The Fire Service has warned people not to tackle fires by themselves after a woman suffered burns during a blaze caused by a candle at an apartment block.
The fire occurred on the 6th floor of Custom House Residence on Waring Street in Belfast.
NIFRS said the fire happened when a candle set curtains alight.
Two people in the flat at the time. One tried to put the fire out and suffered burns to her foot.
A number of people were forced to leave the building, while fire officers wearing breathing apparatus and at least six fire engines fought the blaze.
Area Commander Aidan Magennis said the occupants had a lucky escape.
"On this occasion the person got away with minor injuries but it could have been very, very different," he added.
"We would say to people if you discover a fire in your home or in your premises immediately ring 999 to get the fire brigade out.
"Leave the premises and stay out and let the fire brigade deal with the fire."