Man rescued from sea off County Down coast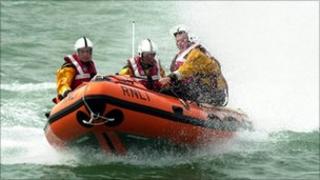 A man has been rescued after his kayak capsized around two miles off the coast of Donaghadee in County Down.
Lifeboats were sent from the town and Bangor after he raised the alarm using his radio.
The man was brought ashore at Donaghadee harbour where he was treated by paramedics.
His condition is unknown, but the coastguard said he was "very tired" when he was brought in.
Watch officer with the Coastguard Jude McNiece said the man was "well equipped".
"He was wearing an immersion suit and he was carrying hand held flares. He also had a radio so he could contact us," she said.
"So undoubtedly the fact the he was so well equipped is what saved him in this instance."