Elliott to reform UUP candidate selection process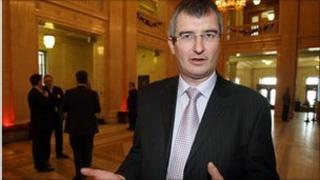 Ulster Unionist leader Tom Elliott has pledged to change the mechanism for selecting the party's election candidates.
Mr Elliott said the current system of candidates being chosen by constituency associations, needed to be reformed.
He was speaking at the party's annual general meeting in Belfast.
He promised new mechanisms, which could see candidates selected by the leadership if it is unhappy with the decisions made at a local level.
"We must again look at this process to ensure that rules will allow us to deliver the best winnable candidates," said Mr Elliott.
The leader admitted that he was disappointed at the UUP's election performance last month. It lost two seats in the Assembly and secured just 100 council seats.
He said his nine months at the helm of the party had been "long and difficult".
Reconnect
Mr Elliott also admitted there were divisions with the UUP and stressed it was important that the party put on a united front.
He criticised members who want to "pursue their own agenda" and said those who do not agree with the party's policies should "consider their positions".
Mr Elliott said the divisions in the party needed to be resolved if it was to win more votes in next round of elections.
"Once we have taken a decision - and let's not forget that we reach decisions by a vote of the majority - then every single member of the party has a duty to stand behind that decision," he said.
"How can we criticise the lack of collective responsibility in the Northern Ireland Executive if we don't even have a culture of collective responsibility within our own ranks?
"So let me make something quite clear. I will hold to account any member of this party, be it an elected representative or an ordinary grassroots member, who thinks that they have the right to pursue their own agenda and damage the party."
The party has lost several members in recent months, including East Londonderry MLA David McClarty who went on to secure an Assembly seat as an Independent.
Mr McClarty had strongly criticised the party for having "no central control".
Mr Elliott told the conference it was important to take "criticism on the chin", particularly from the media.
He urged the party to "rebuild and reconnect".
"We have a tough job ahead of us. And that job will only be completed if we tackle it together," he added.