NI Aer Lingus pilots to stage work-to-rule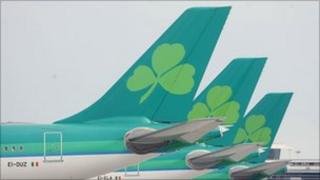 Aer Lingus pilots in Northern Ireland are planning to stage industrial action from the end of this week, according to the main pilot union.
IMPACT said that work-to-rule action at Belfast will start on 10 June and could cause disruption to flights.
Pilots based at Dublin, Cork and Shannon are due to take the same action on Tuesday following a dispute over rosters.
Aer Lingus said there were no planned changes to its Belfast schedule.
A spokeman for the airline added: "We received notice IMPACT had conducted a ballot. We have not yet received notification of a date for industrial action.
"What we would say to customers with bookings in or out of Belfast is that there are currently no cancellations to our schedule.
"If there is any change we will communicate that."
Delays
Talks between the airline and union bosses broke down on Saturday. They recommenced at the Labour Relations Commission in Dublin on Sunday evening and are continuing.
Michael Landers of IMPACT said that if the action goes ahead as planned pilots at Belfast International Airport would not be available to work on their days off and would impose a one-hour delay on all flights.
"What Aer Lingus have said in relation to flights from Dublin is, if that action goes ahead they will cancel all flights for Tuesday and Wednesday," he added.
"Now, whether or not they propose to take similar action later in the week in Belfast I don't know."
Between 20 and 30 Aer Lingus pilots based in Belfast are members of IMPACT.
While the dispute in the Irish Republic centres on rota arrangements, Mr Landers said the issues in Northern Ireland mainly related to pay.
He said:"Salaries in Belfast are lower.
"A lot of pilots have already left the base."
Aer Lingus said industrial action in the Republic would cause problems for around 30,000 passengers.
It has extended the period for customers to change bookings free of charge.
Passengers can now cancel flights they have booked from Tuesday until Friday.