Aer Lingus industrial dispute in Belfast not resolved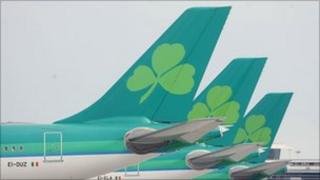 The threat of industrial action by Aer Lingus pilots in Belfast has yet to be resolved, despite a settlement being reached over the dispute in the Republic of Ireland.
Talks aimed at averting widespread disruption had been taking place since Sunday evening at the Labour Relations Commission in Dublin.
Industrial action was due to begin in Dublin on Tuesday with a work-to-rule in Belfast scheduled for 10 June.
The negotiations are continuing.
In a statement on Monday, Aer Lingus said it intended to operate a full schedule from all its bases from Tuesday onwards.
"Customers who have already changed bookings to another date, may change back to their original planned date of travel if they so wish via aerlingus.com," it said.
"Aer Lingus apologises to its customers for the inconvenience caused to them by the recent uncertainty over our scheduled operations."
Details of the settlement reached over the dispute in the Republic of Ireland have not yet been released.
Talks on averting the actions in Belfast and Gatwick are due to resume shortly.
Speaking before the action was called off, Michael Landers from the Irish Airline Pilots Association and the trade union IMPACT, said there had been "give and take" in the discussions between management and pilots in Dublin.
"There has been some definite progress, we are closer than we were at 7pm yesterday," he said.
"We still have a number of issues between us, some of those concern Belfast and there is still maybe an hour or two of talking left."
Delays
Talks between the airline and union bosses had broken down on Saturday.
Between 20 and 30 Aer Lingus pilots based in Belfast are members of IMPACT.
While the dispute in the Irish Republic centres on rota arrangements, Mr Landers said the issues in Northern Ireland mainly related to pay.
He said salaries in Belfast were "uncompetitive" and that pilots there were the "lowest paid in all the Aer Lingus bases".
"They are less well paid than Gatwick and considerably lower than the Dublin and Cork bases, so that is obviously an issue that raises concerns among Belfast pilots, they want the company to do something about that," Mr Landers said.
"Our research shows that they are paying less in Belfast than competitor airlines are paying and that has led to a considerable outflow of pilots in Belfast.
"At the moment, they are short of about eight pilots in Belfast which means that pilots from Dublin are operating out of Belfast every single day of the week."