Micro Focus UK Ltd creates 72 IT jobs in Belfast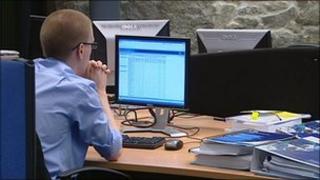 An IT company is creating 72 jobs at its base in Belfast over the next three years.
Micro Focus UK Ltd specialises in the development of advanced enterprise software.
The jobs will be in software development support and sales. Invest NI is providing a £864,000 grant to the firm.
Enterprise Minister Arlene Foster welcomed the investment.
"As a global company, Micro Focus could have chosen to expand anywhere in the world," she said.
"A combination of our talented, skilled people, Invest Northern Ireland support and the positive performance of the company's existing Belfast facility, resulted in the decision by Micro Focus to expand here.
"This investment will see Micro Focus more than double its presence here, with a total of 120 people employed at its Belfast site by 2014.
"The 72 new software development and sales roles are a boost for our ICT sector and the local economy as they are high quality positions which will pay above the NI private sector average."
Support
Arlene Foster said she would continue as Enterprise Minister to work to secure more investment, so "both our economy and local people can benefit".
Paul Rodgers, group human resources director at Micro Focus said: "We have been continually impressed with the performance of the Belfast operation as well as the support of Invest NI.
"We are confident that the skills available combined with a location which is close to many of our key European markets will play a key role in our future growth."
In 2009, Micro Focus UK Ltd acquired Borland Software which had a software development base in Belfast employing 48 people.
Micro Focus is currently a takeover target for at least two private equity groups.
It posted a profits warning in February and in April the firm's chief executive resigned after less than a year in the job.
The shares are still trading well below their peak leading some industry analysts to say it has become an attractive target for a private equity deal.
Last month, the company confirmed it had received approaches from Bain Capital and Advent International.