Travers' brother backs Mary McArdle resignation call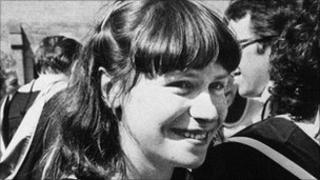 The brother of murdered teacher Mary Travers has called on Sinn Fein special adviser Mary McArdle to resign.
Paul Travers, who now lives in Australia, backed his sister's plea for Ms McArdle to stand down from her role
Ms McArdle was appointed as a special adviser to the culture minister. She was part of an IRA gang which murdered Mary Travers in south Belfast in 1984.
"On that day our family was shattered by the actions of this woman," Mr Travers said.
Mr Travers said he fully supported his sister Ann Travers, who demanded Ms McArdle's resignation.
Last week, Ms McArdle told the Andersonstown News she did not believe anything she said could ease the family's grief.
In her first interview since being appointed as special adviser to Culture Minister Caral Ni Chuilin, she told the newspaper: "I want to state clearly that the killing of Mary Travers was a tragic mistake and I regret that it happened.
"If I were to begin to describe the specific context of conflict I would be accused of trying to justify her death, and I have no wish to do that."
'Suspicion'
Mr Travers said he did not believe Ms McArdle had "any interest in telling the truth".
"She is not going to say sorry or reveal the details about what happened that day," Mr Travers said.
"She should do the right thing and step aside, and if she won't she should be removed.
"Her appointment should never have happened.
"If we don't put some structure around how these appointments are made we are going to have foxes in the hen house and I just don't know if it is something we, as a community, are able to stomach."
On Monday a Sinn Fein spokesperson said the party was very conscious of the hurt experienced by all victims of the conflict, including the Travers family.
"The killing of Mary Travers was wrong and the party has publicly expressed its regret on a number of occasions. Mary McArdle has publicly expressed her regret also.
"Sinn Fein recognises that the Travers family has every right to express its grief and totally understandable anger at the loss of Mary. Nothing the party can say or do can bring her back to them, but hopes that this expression of regret will be accepted as genuine by her loved ones.
"Mary McArdle has been active and enthusiastic in her pursuit of a peaceful solution to the conflict in Ireland and as a member of the Sinn Fein's Ard Comhairle, played an important role in the development of the party's peace strategy.
"The recent conflict involved various armed groups, state forces and governments. With progress in the building of peace in Ireland, there are now many individuals from all of these groups working in their communities in the north and as one of them, Mary McArdle has taken up the position as a Special Adviser to the DCAL Minister."
Last week Ann Travers said the news Ms McArdle had managed to secure such a well-paid job at taxpayers' expense had reawakened "uncontrollable grief".
Ms McArdle, 46, was part of an IRA gang who ambushed Catholic magistrate Tom Travers and his family as they left Mass in Belfast. Mary Travers, 22, was killed.
Ms McArdle was sentenced to to a life term for her role in the murder and was released under the Good Friday Agreement.
Mr Travers said he felt Ms McArdle had been rewarded for her actions.
"To have people who have committed dark deeds like murder, never explain to us why they did it, the details of what happened, who else was involved and who else they killed, is not right.
"To then have those people blithely say: 'you wouldn't understand it because you have to see it through the political ideas of the time' just doesn't make sense," he added.
Reconciliation
"You can't have it both ways - they want us to pay for them to be part of the democratic system but we have to ignore their past and the effect it has had on the wider society, if this remains the case then we will never have reconciliation - there will always be suspicion."
Mr Travers also said he was surprised by comments made by Deputy First Minister Martin McGuinness in which he compared hiring Ms McArdle to the appointment of Nelson Mandela.
"The comparison is phenomenal, Nelson Mandela was a a statesman, he didn't try and escape the truth, he wanted the truth to be out."
Mr Travers said he would like to see a truth and reconciliation commission to deal with Northern Ireland's past.
Last week the SDLP and Ulster Unionist Party backed a review into the way special advisers are appointed to Northern Ireland government departments.
First Minister Peter Robinson has asked Finance Minister Sammy Wilson to look at the appointment process.