Ford may approach English lawyers in legal aid dispute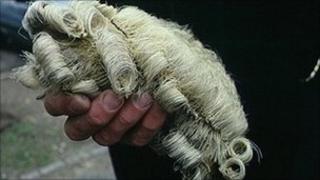 Justice Minister David Ford has said he may be forced to approach lawyers in England to work in Northern Ireland as the row over legal aid escalates.
Dozens of solicitors' firms are refusing to work on criminal cases because they will not accept new lower rates of pay introduced in March.
Mr Ford has asked solicitors to write and tell his department if they will accept the new rates.
Solicitors have already withdrawn their services in 134 criminal cases.
On Monday, Mr Ford gave a geographical analysis of those cases in Northern Ireland which had been through a preliminary inquiry at a magistrates court where solicitors had come off record between 13 April and 27 May.
It followed a question by Lord Morrow in the assembly.
Belfast had the highest number of cases at 53; followed by Ards 23, Craigavon 15, Armagh and South Down 13, Fermanagh and South Tyrone 12, Londonderry 12 and Antrim 6.
Mr Ford said it was not possible to "state categorically" that all of the cases represented the "outcome of a protest against the introduction of the new legal aid fees".
He said he was trying to see which solicitors and barristers in Northern Ireland were prepared to carry out the "normal range of legal aid work under the new rates".
Mr Ford added that as some said they would not do that, he had to see if it was "necessary to go outside Northern Ireland to bring in other lawyers".
"What I am determined to do is to see the courts function and people obtain access to justice," he said.
Lawyers in Northern Ireland have argued that the new rates make it impossible for them to prepare properly for court.
It emerged last week that a group of 200 barristers and solicitors' firms have earned almost £70m in legal aid payments in the last financial year.
The bill has fallen from more than £100m in 2009-10.
The figures published last Tuesday showed the 100 barristers and 100 solicitors' firms who earn most from the legal aid budget.
Seven firms received £1m or more, while nine others received more than £750,000 and 20 more than £500,000.
The highest earning firm made more than £2.5m.
The list is currently anonymous because some lawyers have objected to their identities being revealed.
The names are expected to be revealed later this year when the security checks have been completed.
The interim chair of the Northern Ireland Legal Services Commission, Ronnie Spence, said it was committed to transparency in accounting for public money.
He added that the money paid out may represent payments for work undertaken across a number of years and for a variety of cases.