Spotlight's Mandy McAuley wins journalist awards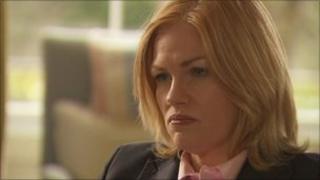 BBC NI reporter Mandy McAuley has been named News/Current Affairs Broadcaster of the Year and Journalist of the Year.
She was awarded at the Chartered Institute of Public Relations Awards in Belfast on Friday.
The reporter won both awards for her investigation into the murders of Lesley Howell and Trevor Buchanan in 1991 by their respective spouses.
The investigation was broadcast in three special Spotlight programmes in March.
The story had gripped the NI public, from the moment lay preacher and dentist Colin Howell handed himself into police in 2009 and confessed to the murders, which had been kept secret for nearly 20 years.
He pleaded guilty yet his former lover, Hazel Stewart, denied murder, sparking one of the most extraordinary trials in recent years.
The awards were presented by the BBC's royal correspondent Nicholas Witchell at the 18th annual CIPR gala, where 300 members of the press and public relations industry gathered to recognise achievements in local journalism.
The judges praised Mandy for gaining exclusive access and said the programmes were "powerful" and "meticulously researched".
The investigative reporter is a former Royal Television Society winner, for her Spotlight expose into the world of illegal dog-fighting.
The same investigation, also made for Panorama, was nominated for a BAFTA.