Spotlight puts focus on Francois De Dietrich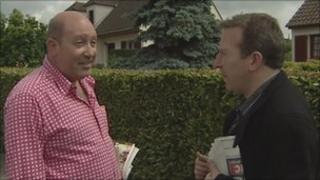 BBC NI Spotlight has been on the trail of a French businessman suspected of a multi-million pound investment scam on both sides of the Irish border.
Francois De Dietrich left Ireland after the authorities closed down his operation.
He has been given an 18-month jail sentence for ignoring a High Court order to disclose details about his business. A warrant has been issued for his arrest.
The PSNI, Garda and some of his investors have been trying to find him but, after a search across Europe, BBC NI Spotlight has tracked him down.
Reporter Enda McClafferty questioned him about his investment scheme and asked him whether or not his investors, who include a PSNI detective, several Garda officers, accountants, solicitors and members of the travelling community, will get their money back.
Alison Carter, a Donegal-based businesswoman, who invested around £60,000 in the scheme, told Spotlight how she was impressed on first meeting Francois De Dietrich.
"The man just emanated success. And everything that he touched turned to gold basically," she said.
But she now fears she may never get her investment back.
"Starting mid-October, I started texting him. No answer. I tried to call. No answer. October ends. November comes around. I keep trying to call and text. No answer. And I am thinking, 'well to be perfectly honest, what the hell is this man doing with my money?'" she said.
Francois De Dietrich is appealing his sentence and insists his business is legitimate.
The programme also reveals secrets from Francois De Dietrich's past.
Spotlight's 'The Mystery of Swanky Franky' is being broadcast on BBC One on Tuesday at 2235 BST.