Mary Travers killer controversy too recent for Stormont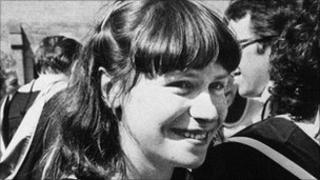 If Stormont operated according to Westminster rules, you might have expected first minister's questions today to be dominated by the Mary McArdle affair.
One can imagine MLAs bobbing up and down eager to have their say on the controversial appointment of a convicted IRA murderer to an advisor's position in the culture department.
Politicians might have followed through by pursuing the exact remit of the Finance Minister's review of how such advisors are appointed.
But the assembly doesn't have an official opposition and doesn't allow Westminster style "no notice" questions. So Peter Robinson and his Junior Minister Jonathan Bell faced enquiries tabled some time back about the executive's sexual orientation strategy, corporation tax and community relations.
Some Stormont ministers may breathe a sigh of relief that they don't have to think on their feet, dealing with up to the minute events. Others may reflect that an assembly which doesn't keep pace with the debate outside its walls risks getting out of touch with the public's concerns.
On BBC's "Talkback" programme, Paul Travers, brother of the murder victim Mary Travers, expressed the family's continuing anger about the appointment. In the chamber, Gregory Campbell worked in a reference to the controversy during a debate on domestic violence.
Sinn Fein's Caitriona Ruane was on her feet talking about the massive impact of domestic abuse on victims, when the DUP MLA intervened, asking if Ms Ruane understood "the conflict of speaking about victims trauma when her party appointed a convicted criminal last week". The South Down MLA accused Mr Campbell of playing politics, insisting "that is a debate for another day."
'Out of time'
Despite the obvious anguish of the Travers family, it's hard to see Sinn Fein changing its line on the special adviser's appointment.
It's a strange moral universe in which an Ulster Unionist adviser is caught up in a sex for access scandal and is summarily dismissed, but a Sinn Fein adviser can be convicted of one of the most shocking murders to have been carried out in Northern Ireland and, despite protests from the victim's family, remains in her job.
However, take a look at Sinn Fein's other ministers and advisers, such as the convicted IRA members Martina Anderson and Paul Kavanagh, and Culture Minister Caral ni Chuilin who is herself a former prisoner, and you can see why republicans aren't in any mood to budge.
Martin McGuinness's comments on Inside Politics sounded like the party's bottom line, even though his invocation of Nelson Mandela as an example of a prisoner who had gone on to play a role in political progress only served to infuriate Paul Travers more.
Stormont may get around to discussing the McArdle affair by the time officials in the finance department report back on the procedures regarding special advisers' appointment. But even if that review suggests people with convictions should not be given such jobs, there's no way Sinn Fein will agree to such a change - certainly not if it is applied retrospectively to offences committed prior to the Good Friday Agreement.
Tomorrow, the culture minister will face her first question time - Jim Allister has tabled a question calling for her to revoke Mary McArdle's appointment and apologise to the Travers family. However, the question is number 14 on the list - and it's rare for a minister to get through any more than 6 or 7 questions before running out of time.
The passage of time clearly won't diminish the Travers family's very obvious pain. But just as Jim Allister's question looks certain to be timed-out tomorrow, Sinn Fein may assume that, with no elections due soon, a few more weeks will take the immediate political heat out of what has been an undoubtedly embarrassing affair.