Tributes paid to dead Isle of Man TT rider Derek Brien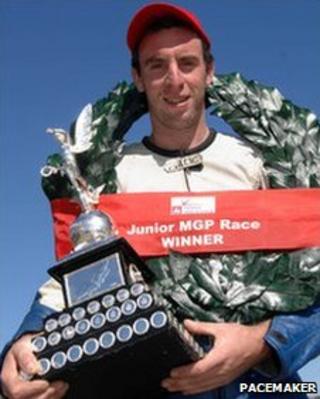 Tributes have been paid to an Irish rider who was killed in an accident at the Isle of Man TT on Monday.
Derek Brien, 34, from Bellewstown in County Meath crashed on the first lap of the opening Supersport event.
Jack Corry, motocycling correspondent for The Fingal Independent, said that Mr Brien was a private person who was nevertheless well liked in the paddock.
"He was a very fast rider and very popular with his fellow competitors," he added.
"The sense of shock which went through the paddock yesterday when the news broke really got to everybody."
Mr Brien, a former Manx Grand Prix winner and a regular competitor on the Isle of Man, was the third rider to die at this year's TT.
Sidecar racer Bill Currie and his passenger Kevin Morgan were killed in a practice crash last Tuesday.
Mr Corry said that Mr Brien had been very safety conscious.
"He'd often miss races to make sure he had the right tyres, the bike was right, he was mentally right. If the track wasn't right, he just wouldn't race on it," he added.
The next race was won by Ballymoney rider Michael Dunlop, who dedicated his victory to Mr Brien.