Northern Ireland tax office staff in strike protest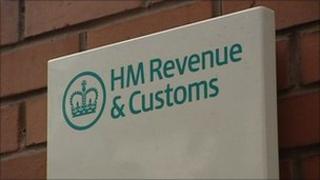 Tax office staff across Northern Ireland are due to go on strike in protest at sickness policy.
The Public and Commercial Services union (PCS) said staff would walk out from Revenue and Customs offices for an hour at 1600 BST on Tuesday.
On Wednesday, staff will go to work at 1000 BST and take a "mass extended lunch" for two hours from 1130 BST.
A HMRC spokesperson said it was "disappointed with the decision to disrupt the working day".
She added that it had not changed its sickness policy but had simplified it.
'Cut corners'
"Our core message remains unchanged: HMRC expects everyone to come to work if they are well enough to do so, but there will be times when people are not well enough to be at work," the spokesperson said.
The union said the sickness policy "allows managers to exert undue pressure on staff".
A PCS spokesperson added that from 1600 BST on Tuesday, union staff will be refusing to work overtime, use private cars for work or "cut corners".
PCS, which is the sixth largest union affiliated to the TUC, has around 3,000 members in Northern Ireland.