Former unionist councillor Wilkinson in rape appeal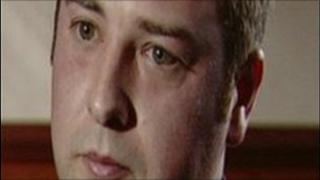 Judgement has been reserved in the appeal of a former unionist councillor convicted of rape.
The Court of Appeal has heard jurors who convicted William Wilkinson were given flawed directions on the law dealing with the offence.
However, the Crown argued that the jury was properly instructed and advised.
Wilkinson, 34, is serving a seven year sentence for rape and attempted rape in August 2008.
A jury who found Wilkinson guilty last year heard he had been drinking before going to the woman's home.
Wilkinson, who sat on Ballymena Council, and is formerly of Tully Road, Portglenone, had been a Democratic Unionist Party member until leaving in protest at the decision to share power with Sinn Fein.
He claimed the woman consented to sex but made an emergency 999 call after falling out with him because of his drinking.
His trial heard he had more than 20 injuries to his face and body which were consistent with scratch marks caused by someone's nails.
A key part of his challenge to the conviction centred on claims that the trial judge failed to define and give proper directions on whether or not he was reckless in not checking if the woman agreed to sex.
His barrister, John McCrudden QC, told the Court of Appeal "recklessness becomes a loose horse in this race which bedevils both counts."
Complaint
The barrister contended that it was a concept that was liable to inaccurate interpretation by members of the public.
Mr McCrudden also questioned the woman's motivations in making her initial complaint about Wilkinson.
"The defence case was that she had a very limited and very simple ambition.
"It wasn't that she was fitting him up for rape.
"Her simple ambition was to cry wolf to have this objectionable person removed from the house."
Richard Weir QC, for the Crown, argued that the jury was properly instructed and advised.
He told the court that Wilkinson had claimed throughout that the woman fully participated in consensual sex.
Mr Weir added: "When it all went wrong he gave as a reason that she was fitting him up, not just a question of 'shock, horror, there has been a misunderstanding'.
"(Wilkinson claimed) she was willing and embarked on this sexual adventure enthusiastically and then turned completely around and turned it into a fit-up.
"That was the case run from start to finish."
Judgment was reserved in the appeal.
Lord Justice Girvan, sitting with Lord Justice Coughlin and Mr Justice Hart, said their verdict should be given within weeks.