Enniskillen students link-up with astronauts in space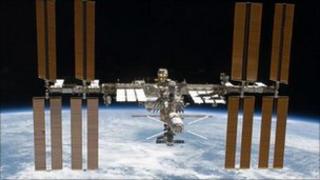 A group of students from the South West College in Enniskillen have been getting careers advice that is literally out of this world.
While their feet may have been firmly on the ground, the advice they were getting was being relayed by a high-tech satellite 220 miles above the earth.
Six specialists onboard the International Space Station took time out from their complex work in space to encourage students to aim high and fulfil career ambitions.
The unique link-up between the students and astronauts from the space station took six months of planning and collaboration between the college, NASA and Amateur Radio on the International Space Station (ARISS).
During the rare radio contact, students had a chance to put questions directly to the station commander and flight engineers in real time and hear how they gained senior positions in space exploration.
Mamraz Nagi, careers officer at South West College, said he hoped the exciting link-up would inspire students to keep pursuing their career goals.
"This project has been about flaring imaginations and showing that ambition and determination can bring extraordinary results," he said.
Motivation
"It's not every day that students have the chance to speak with people whose work is literally out of this world.
"The fact is that competition for jobs is getting tougher and for anyone starting out in their chosen field it is critical to stay motivated and focused on achieving their goals.
"Even astronauts have had to combine hard graft with natural talent to clinch their roles."
Director at South West College Malachy McAleer said: "This is a genuine once-in-a-lifetime opportunity for our students and a landmark achievement for the college.
"ARISS receives countless proposals each week from groups and organisations across the globe, but it has only a few contact opportunities on each space station mission.
"Every day our careers team provide world-class guidance and support to more than 20,000 students across our four campuses.
"Their ability to motivate and inspire is an example of how we are committed to giving our students the best learning experiences with creative thinking and innovative partnerships."
During the 'downlink' contact, students asked questions about life on the station and recent operations including one of the longest-ever spacewalks which was undertaken last week and took more than eight hours to complete.
The International Space Station is a joint international effort between space agencies in Canada, Europe, Japan, USA and Russia.
Construction began in 1998 and is scheduled to be completed in mid-2012 following which it will remain in operation until 2028.