Hospice and home score poorly food hygiene ratings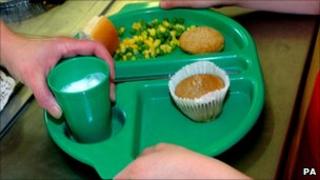 A new food hygiene standards scheme has revealed that a hospice, children's home and hospital have scored amongst the lowest scores across NI.
The Food Standards Agency scheme rates outlets from zero to a top rating of five. Fourteen places scored zero.
About 351 premises scored level one, which means urgent improvements are necessary.
Foyle Hospice day care unit and the Children's home on Racecourse Road, both in Londonderry scored level one.
The snack bars of the Ulster Hospital in Belfast also scored level one with the rest of the hospital scoring three overall.
Each hygiene rating will be displayed on the premises and are available Online.
The agency operates the scheme in partnership with 17 district councils across Northern Ireland.
It will replace previous schemes, including the Scores on the Doors in Belfast.
The scheme was launched in Northern Ireland on Monday and coincides with it being rolled out in Wales and England promoting consistency for both consumers and businesses.