GPs fears over district nurses centralisation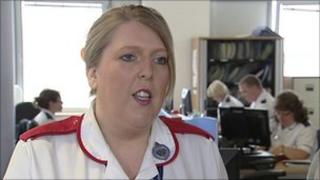 Doctors have warned that providing care for patients in their own homes is becoming increasingly difficult as GPs no longer have the same access to district nurses.
District nurses were attached to a surgery but now some health trusts have centralised the service.
The move has been criticised by some doctors but the Belfast Health Trust said patient care remains a priority.
Londonderry GP Tom Black compared the system to ringing a call centre.
"This is running the health service from a computer in Belfast," he said.
"This is bureaucracy gone mad and we need to devolve resources down to the local areas so that the communities have influence over what services are provided so they can get what they they need."
In south Belfast, district nurses work for a number of GPs. The Belfast Trust said this was a more efficient system for patients.
Jacqui Lowry, a nurse with the Belfast Health Trust, said despite the change, nurses still are operating within communities.
"We might not be based in GPs surgeries anymore but we are within the local community," she said.
"Our nurses work very hard to keep those established links we have with GPs, patients seem to be happy and our GPs have been positive.
"The role of the district nurse has changed and we are evolving with that change."
With cuts to nursing posts across Northern Ireland, some believe centralising services could just be another way of masking employment figures.
Janice Smyth from the Royal College of Nurses said they do have concerns over the centralisation move.
"If the centralisation is implemented to cover up staff shortages, which we know we have, then that is not right," she said.
"There are teams with 18-40% vacancies which are not being filled because of the economic climate and if that is the case it will impact on the continuity of care.
Dr Brian Dunn, from the doctors union the British Medical Association (BMA), said he did not think centralisation was the right route.
"We would like to control the community nursing budget," he said.
"Not because we want to tell nurses what to do but because we want to stop it from being salami sliced and see the money going from community nurses into secondary care."