Belfast company Andor Technology posts 40% profit rise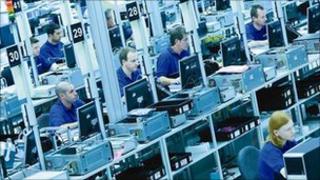 Belfast company Andor Technology has announced a 40% increase in profits on revenue of £28.3m.
The figures, released in the firm's interim results, are for the six months to the end of March.
Operating profits were up 40% to £4.5m, compared with £3.2m last year. Revenue was up 42% to £28.3m from £20.0m for the same period last year.
Andor, a spin-off company from Queen's University, employs around 260 people worldwide.
The company makes highly sophisticated digital cameras for use in scientific research, selling them to hospitals and universities and government labs throughout the world.
Chief executive Conor Walsh described them as continuing the company's strong record of growth.
"Over the last 13 years we've grown by more than 30% per annum," he said.
"What we do is target new and emerging applications that are growing at faster rates than the market."
The company also spends 10% of its annual revenue on developing new products and new technologies.
Mr Walsh said that personnel were another key to the company's success.
"You need a very strong staff and a very hard working staff and we're very fortunate in Andor to have both," he said.
"And for their efforts they're rewarded, after this six months every member of staff will get a month's salary as a bonus. That's to recognise their efforts, because this is a team effort in Andor to achieve these sort of results."
The company also plans to invest £1.5m in expanding its Springfield Road premises in Belfast.