Troops 'wanted to arrest IRA men' shot dead in Clonoe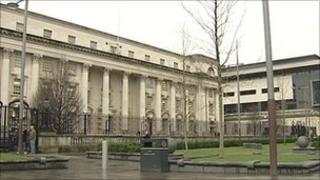 A military operation which culminated in the fatal shooting of four IRA men nearly 20 years ago was "meticulously planned", the High Court has heard.
A soldier who led the unit said the intention was to break cover and detain the terror suspects.
He was testifying in the case brought by a man shot and wounded at the scene.
Aidan McKeever is suing the MoD for assault and battery and what he claims was unreasonable force during the operation in Clonoe, County Tyrone.
His legal action centres on events surrounding the killing of four Provisional IRA men in February 1992.
Soldiers opened fire on them as they dumped a lorry used in a machine-gun attack on an RUC station in nearby Coalisland.
Mr McKeever, who was unarmed and not among those who carried out the attack, said he was shot in the chest as he tried to get out of his car in the area.
He was later convicted along with two other men of aiding and assisting offenders in relation to the attack and given a suspended sentence.
One of the soldiers who was at the scene told the court on Tuesday the intention had been to advance onto the men and shout "Army, stand still".
He claimed it would have been pointless to do this from behind hedging as the suspects would have fled.
The judge, Mr Justice Treacy, asked him: "This operation was meticulously planned in writing?"
Testifying from behind a screen to ensure anonymity, the soldier replied: "Yes."
Warning
During cross-examination counsel for Mr McKeever put it to him that he should have used a loudhaler to issue a clear warning.
The soldier played down its effectiveness and also rejected suggestions that it would have made more sense to give the warning before breaking cover.
He said: "You wouldn't because you were handing over the initiative to gunmen. That would then give them time to either fire upon you or run or drive away."
Mr Justice Treacy also pressed him about the plan of action if he had not "erroneously thought a weapon had been discharged".
He was told the intention was to get as close as possible and shout instructions once the troops' position had been compromised.
"My verbal response would have been in response to the actions of the gunmen," the soldier said.
"They are totally wrapped up in their own little world. It's surprising how far you can get to individuals before they realise you are there."
Mr Justice Treacy questioned whether it involved a high risk of the unit being heard as it came through hedges.
"The plan was you were going to do all this and advertise your position by (shouting) 'Army, stand still' even though they were armed?
"That must have carried with it a grave risk you would have been shot at."
The soldier agreed that possibility existed.
The case continues.