Olympics 2012: no training camps signed up for NI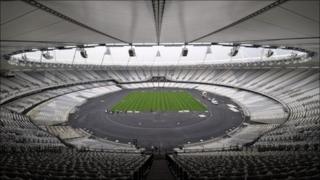 None of the nations competing in the 2012 Olympics has so far chosen Northern Ireland as a base for a training camp.
The Department of Culture Arts and Leisure said it was hopeful some countries would come, but as yet no contracts have been signed.
More than 80 Olympic federations have committed to do their pre-games training at centres across Britain.
Some pre-Olympic qualifying events will be held in NI.
Revenue
Initially 26 venues in Northern Ireland were on the list of potential venues, but none of the 83 countries listed have yet signed up to use them as a base.
The Jamaican athletics team, which includes the fastest man in the world Usain Bolt, will train in Birmingham as will the Americans.
The council there said the athletes' presence in the city would generate about £15m in revenue.
Wales will host five teams, Scotland two and Dublin in the Irish Republic at least one.
The most recent list released by the London 2012 Organising Committee shows Northern Ireland has not managed to attract any Olympic teams for pre-games training.
The Department of Culture Arts and Leisure (DCAL) said that "Sport NI, local councils and the many governing bodies are proud of the success to date".
They said they have secured what they called "several world sporting events" in the run-up to the Olympics.
'Unmitigated failure'
DCAL said this summer they would announce details of several pre-Olympic qualifying events that will be held in NI.
They said they hope this will involve 60 Olympic or Paralympic teams either competing in these events or taking part in camps that have yet to be confirmed.
Earlier this year, before this latest list came out, the former chairman of the assembly's Culture Arts and Leisure committee, Barry McElduff, described the absence of Olympic training camps in Northern Ireland as an "unmitigated failure" and criticised the then Culture Minister Nelson McCausland.
In the assembly on Tuesday, Culture Minister Caral Ni Chuilin said: "I understand that there's a lot of concern around this.
"I do feel that it was an opportunity missed - I have received the same sentiment from many members and indeed from individuals across the community and I will on behalf of other people pass those sentiments on to LOCOG (London Organising Committee of the Olympic Games) in London."