Robinson and McGuinness to meet Prime Minister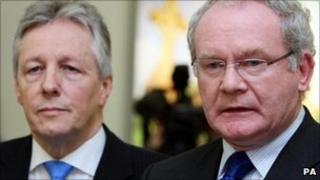 The NI First Minister and Deputy First Minister are due to meet the Prime Minister for talks in London later.
The talks at Downing Street are due to centre on budgetary issues.
Peter Robinson and Martin McGuinness claim changes to treasury rules on the surplus money Stormont departments can use at the end of the financial year is costing £300m.
BBC NI political editor Mark Devenport said the meeting was an opportunity to "build bridges" with David Cameron.
The NI ministers have expressed a desire that the region will win the right to lower its corporation tax.
The current rate in Northern Ireland is 26% compared to 12.5% in the Irish Republic.
Mr Cameron is expected to address the assembly at Stormont during a visit to Northern Ireland on Thursday.
He is also due to meet Mr Robinson and Mr McGuinness at Stormont Castle.