Limavady union flag row 'bad publicity' for festival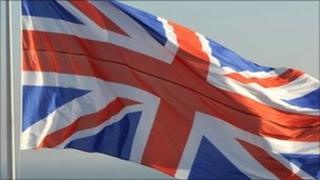 A leading businessman in Limavady has said councillors in the town should stop arguing and work together to tackle important issues.
Philip Kingston from Roe Valley Chamber of Commerce was speaking after a council meeting was abandoned on Tueday in a row over a union flag.
Mayor Sean McGlinchey suspended it after a TUV councillor brought a miniature flag into the chamber.
The council, which has a no flags policy, voted to have it removed.
But Boyd Douglas, who had placed the flag on his desk, refused to comply with the motion.
The council will meet again on Monday.
Sinn Fein's Mr McGlinchey said that relations within the chamber had been poor for several years and said that the council would be more effectively run by unelected officials if councillors could not agree.
"We're all elected to work for the borough and I think, at this time, we need everybody working together rather than people pulling silly pranks for their own self-esteem," he added.
"My opinion is - and the party's opinion is - the council would be better closing.
"I would have to say that it's one of the worst relationships of a council working anywhere and it has been for he last number of years."
Mr Douglas said that he did not understand why anyone would be offended by the union flag.
"It's the flag of the country," he said.
"Sinn Fein are talking about moving on and they only want to move on under a Sinn Fein agenda."
Last month, DUP MP Gregory Campbell criticised the election as mayor of Mr McGlinchey who spent 18 years in jail for his part in a bomb attack which killed six people in Coleraine in 1973.
Mr Douglas said the row on Tuesday night had to be seen in the context of that.
"We have had foisted upon us a mayor by the name of Sean McGlinchey who has a record of being in the IRA and who planted a bomb in Coleraine.
"There has been outrage throughout the borough of Limavady."
The row flared ahead of the annual Limavady Jazz and Blues festival which begins on Friday and attracts thousands of people.
The festival organiser Rory McClements said he hoped it would not overshadow the event.
"It's bad publicity, but having said that it's a very difficult issue across Northern Ireland and hopefully it will be resolved soon," he said.
"We as a festival community are cross community, we work with everyone in Limavady and we welcome everybody to the town."
Philip Kingston from Roe Valley Chamber of Commerce said councillors should stop arguing and get down to business.
"Thousands will come here over the weekend for the jazz festival which shows Limaday in the best possible light, a town where communities socialise, enjoy and listen to music together.
"I don't think this will have a serious impact on the event but what I don't want to see is the council degenerating into a squabbling parlour when there are serious issues to address such as corporation tax which will impact on the long term viability of business in this area.
"I'm hoping this dispute will be brought to a head as quickly as possible so the politicians can get on with the serious business of representing both workers and businesses in this locality," he said.