Robinson and McGuinness discuss budget with PM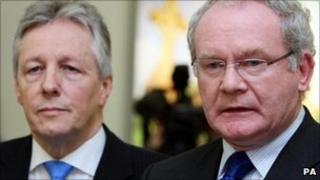 The Northern Ireland first and deputy first ministers have met Prime Minister David Cameron in London.
It follows a meeting with business leaders as part of the Treasury's consultation on whether the assembly should be given the power to reduce the corporation tax rate.
The talks with Mr Cameron included the Scottish and Welsh administrations.
The prime minister is due to visit Stormont on Thursday.
BBC NI political editor Mark Devenport said money will be the 'unifying theme' of the two face-to face meetings.
"This morning the first and deputy first ministers again spoke positively about the possibility of devolving corporation tax," he said.
"Peter Robinson talked about the urgent need to produce private sector growth, whilst Martin McGuinness said varying corporation tax would give Stormont extra leverage."
The current rate in Northern Ireland is 26% compared to 12.5% in the Irish Republic.
Mr Cameron is expected to address the assembly at Stormont during his visit on Thursday.
He is also due to meet Mr Robinson and Mr McGuinness at Stormont Castle.