Prisoner speaks out in court over legal aid row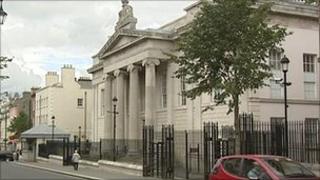 The ongoing dispute over legal aid fees in Northern Ireland has been raised in court by a prisoner in Londonderry.
Patrick Fullerton, 44, from Lisneal in the Waterside is on remand charged with having a class A drug and diazepam on 04 February 2010.
Londonderry Crown Court was told on Wednesday that his legal team had withdrawn from the case.
The defendant said the row was being discussed among prisoners who "were very worried about its consequences".
In a prepared statement read from the dock, Mr Fullerton told the judge he did not have the money to phone legal firms to ask if they would represent him.
He said he did not want to be forced to pick a solicitor who did not have any criminal experience and who "will mess up my case".
The judge adjourned the case and told the defendant to seek legal representation because of the seriousness of the charges against him.
He told him to provide details of his case to the Law Society of Northern Ireland and make "strenuous efforts" to obtain legal representation.
It's understood almost 200 crown court cases have been affected in the row between the Justice Minister David Ford and solicitors and barristers over lower fees.
Mr Ford has defended the action saying the legal aid bill was too high.
The defendant's former solicitor Kevin Casey accused David Ford of trying to play hardball.
"We have a large number of clients who are being left in a state of limbo by Mr Ford and the court service's intransigence, and the refusal on their part to discuss with us in any meaningful way a way to resolve this issue," he said.
"Mr Ford has had numerous opportunities to meet with us, he's demonstrated incredible bad faith and I would also say serious errors of judgement in the way he's handled this matter."