Retailers may seek judicial review over Tesco Banbridge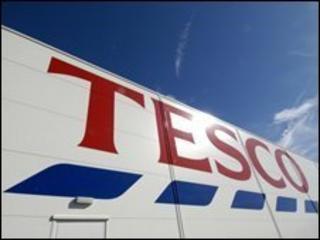 The Northern Ireland Independent Retail Trade Association (NIIRTA) is to consider applying for a judicial review to challenge planning permission granted for a Tesco store in Banbridge.
In March, former Environment Minister Edwin Poots granted permission for the store.
Two previous applications by the supermarket giant had been rejected.
NIIRTA Chief Executive Glyn Roberts said they had little choice but to warn the DOE of the threat of legal action.
"A response is awaited but if unsatisfactory NIIRTA will have to consider its legal options and this may mean the issue of judicial review proceedings," he said.
"Unlike the applicant, objectors to this proposed development have no third party right of appeal and so we are left with no choice but to consider lodging a judicial review application.
"To this end our legal representatives have written to the DOE seeking confirmation that the decision to grant planning permission will be reversed," Mr Roberts added.
"Our reason for this challenge is very clear - the damage that this proposed hypermarket would do to Banbridge town centre and the many small businesses and jobs it supports"
"We should not forget that the Planning Appeals Commission rejected a very similar application in 2009 and the DOE Planning Service recommended rejection of this application in March of this year.
"The previous Environment Minister overruled his officials in this matter"
The new store will be slightly smaller than the retailer had hoped to build at the Bridgewater Retail Park but will still be one of the largest in NI.
It will be part of a development which will include retail warehouses and create hundreds of jobs.
Objectors had said the development would damage Banbridge town centre.
Tesco first submitted plans in 2007 and presented an amended scheme in 2008 which slightly reduced the size of the proposed store.
In December 2009, plans to build the largest Tesco store in Ireland, close to Banbridge, were rejected for a second time.