Rory McIlroy makes humanitarian trip to Haiti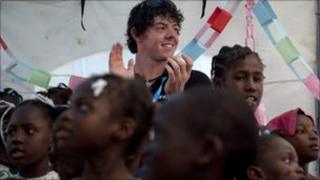 NI golfer Rory McIlroy has played on many of the world's most luxurious and well known courses, but this week he took a break from the game before the US Open to travel to Haiti.
It was his first official overseas trip as Unicef Ireland ambassador.
The Caribbean country is still suffering the effects of the devastating earthquake which hit close to the capital, Port-au-Prince, in January 2010.
Thousands of people were killed and injured and over a million people were left homeless.
It was a chance for him to see the rebuilding efforts of the many aid agencies, including children's charity Unicef.
During his two-day trip he visited several newly built schools, a maternal centre and camps for people who lost their homes in the earthquake.
"It was important to me that my first visit as a Unicef goodwill ambassador be a place like Haiti, where I can see what is being accomplished and what challenges remain," said Rory.
Disease
At a junior school rebuilt by Unicef following the quake, the County Down golfer taught children to properly wash their hands as a means of helping to protect themselves against cholera.
The disease has caused more than 5,000 deaths, including many children.
Accompanied by a delegation from Unicef Ireland, Rory helped distribute cholera prevention supplies to people displaced by the earthquake.
He also visited a Unicef-funded child-friendly space in a displacement camp, which provides children with a safe environment to play sports and games.
The young golfer wrote about his trip on Twitter.
Spirit
"Pretty emotional day today. Great to see all the work Unicef do to help and educate kids in this grief stricken country," he posted.
In a later post he said: "My trip to Haiti is coming to an end. Was incredible to see the work Unicef do here and more importantly the great spirit the Haitian people have. With the new president and the positivity of the people a little help could go a long way in this country!"
The trip was Rory's first official visit since becoming a Unicef Ireland Ambassador in March.
After leaving Haiti, he travelled to America to prepare for the US Open at Congressional Country Club in Bethesda, Maryland which begins next week.