David Cameron pressed over Brenn/Buchanan tribunal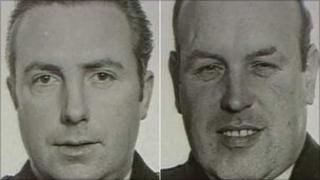 North Antrim MP Ian Paisley has called on the prime minister to make contact with the Irish government over the Smithwick Tribunal deadline.
Mr Paisley said the inquiry, in Dublin, should have enough time to investigate the murders of senior RUC officers Harry Breen and Bob Buchanan.
Speaking during prime minister's questions, Mr Cameron said he would look carefully at the issue.
He added that very often all people wanted was "the unvarnished truth".
The inquiry is examining allegations that Irish police, or a civilian working in the force, colluded with the IRA in the killing of Chief Superintendent Breen and Superintendent Buchanan on 20 March 1989.
Last week, the Irish parliament backed a move by the justice minister, Alan Shatter, to impose a November deadline on the completion of its final report.
Concerns about that have been raised by the Breen family's lawyer, the DUP, Amnesty International and the NI Commission for Victims and Survivors.
On Tuesday, the tribunal was told that its legal team held a face-to face meeting with three former members of the Provisional IRA in recent weeks.
It was told the three former IRA leaders, one of whom had a command role in the attack, had met the tribunal.
The inquiry will begin hearing evidence on Thursday.