Duncan Morrison murder: Peter Greer appears in court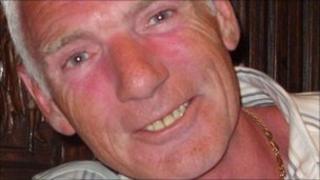 A 35-year-old man has appeared in court charged with murdering a man in County Down last month.
Peter Greer from Mountcollyer Avenue in Belfast is charged with shooting 56-year-old Duncan Morrison at a house at Hazelbrook Avenue in Bangor.
He is also accused of trying to kill Stephen Ritchie in the same attack. He denies both charges and is due to appear in court again next month.
Another man is already in custody charged with the killing.
A number of supporters of Mr Greer were in court and as he was led away, one shouted: "Chin up Pete".
When they and friends of the murder victim left court, a number of armed police were present.