MLAs could not break 'super injunctions'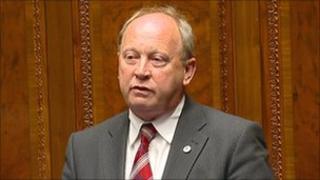 Assembly members breaking a super injunction by naming the individual involved would be breaking the law, a Stormont spokesperson has said.
Four such injunctions have been awarded by the NI High Court since 2007.
The information was revealed on Monday in an answer from the justice minister to TUV leader Jim Allister.
In Westminster, Liberal Democrat MP John Hemming used the privilege of the House of Commons to name Ryan Giggs, as the subject of a super injunction.
However, commenting on the possibility of an MLA doing likewise, the spokesperson said that assembly privilege was narrower than that afforded to MPs in Westminster.
"Assembly privilege is for defamation proceedings only whereas MPs have wider protection," the spokesperson said.
"An example of that would be where a MP could break a super injunction as one of them did recently, if an MLA did it, he/she would be breaking the law and would not be similarly protected."