James Greer charged with Doury Road murder attempt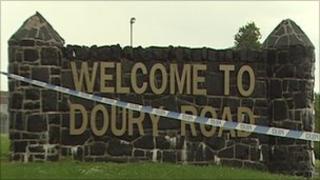 A 27-year-old man has appeared in court charged with the attempted murder of a man in Ballymena.
The 50-year-old victim was repeatedly beaten around the head during the assault in Richmond Walk in the Doury Road estate on Monday evening.
As well as the attempted murder, James Greer was charged with two further offences of possessing an offensive weapon, namely a metal bar and a knife.
Phillip Dunlop, 28, was charged with withholding information.
No bail application was made on behalf of Mr Greer, of Rathkyle in Antrim.
Mr Dunlop, of Sandown Park, Ballymena, was released on his own bail of £500.
A number of restrictions were imposed on him including not being allowed to enter the Doury Road estate.
Both men are to appear in court in Ballymena on 30 June.