Shake-up plans for Northern Ireland's hospitals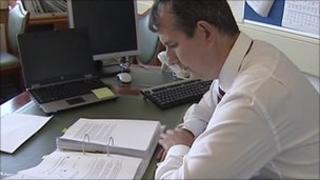 The health minister is to set out controversial proposals for the future of Northern Ireland's hospitals.
Edwin Poots told the Stormont health committee that compared to England, money was being spread too thinly across too many acute sites.
There was a strong suggestion that closures are on the cards.
He did not name any hospital, but it is understood that the future of the Mater Hospital's accident and emergency unit in north Belfast is in doubt.
Mr Poots also said critical care services in hospitals such as Daisy Hill in Newry should be restructured.
"I intend to get things moving and move quite rapidly," he said. "We have a short space of time to get a lot of information out there."
Within the next few weeks, Mr Poots is expected to make announcements regarding cancer drugs and certain medications used to treat rheumatoid arthritis.