David Cameron to speak at NI Assembly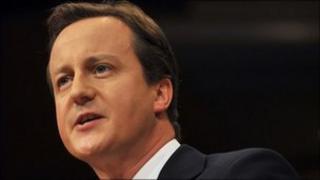 It is expected that the economy and political stability will be the key themes of Prime Minister David Cameron's address to the NI Assembly.
He will become the second prime minister to deliver a speech to members in the debating chamber since the Good Friday Agreement was signed.
Mr Cameron will be welcomed to Stormont Castle by the first and deputy first ministers shortly.
He will also hold a brief meeting with the party leaders during his visit.
After Stormont Castle, he will go to Parliament Buildings where the speaker will formally welcome him ahead of his address to MLAs.
Mr Cameron is the first Conservative prime minister to speak in the chamber.
He visits an assembly which is now in control of policing and justice powers, but is seeking the power to lower corporation tax.
He will attend a brief reception with party leaders, where other issues such as the creation of a Westminster-style opposition at Stormont are likely to be raised.
In an article in the Belfast Telegraph on Thursday, Mr Cameron said politics in Northern Ireland now "looks more stable than at any time since before the outbreak of the troubles".
"Against a background of greater political stability there's a chance to put normal, mainstream politics first," he said.
"So increasingly the political debate should be about things such as the future of education, how to improve the health service, the environment, whether Northern Ireland has the right infrastructure to compete for overseas investment and how to build a genuinely shared future.
"There will be an increasing public expectation on the Assembly to deliver."
Mr Cameron said the region needed a "dynamic private sector to generate the wealth that pays for top quality public services".
He added that this "will help to underpin peace" in Northern Ireland.
"We are doing everything we can do to help drive a private sector recovery: boosting trade, cutting unnecessary regulation and key business taxes - and, of course, looking at issues specifically in Northern Ireland such as the case for devolving corporation tax," he said.
Mr Cameron said that he believed Northern Ireland's "best days lie ahead".
"We have a real chance to build a peaceful, stable and prosperous society in which everybody has a genuinely shared future," he said.
"In the coming months and years this government will continue to work with people and parties from right across the community here to help make that a reality."