Robinson and McGuinness discuss budget with PM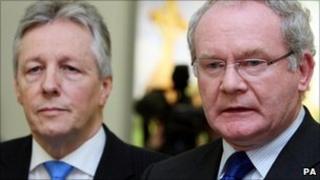 Northern Ireland's first and deputy first ministers have met David Cameron in London together with the Scottish and Welsh first ministers.
Earlier, Peter Robinson and Martin McGuinness met business leaders along with the Treasury.
It was part of the Treasury's consultation on whether the assembly should be given the power to reduce the local rate of corporation tax.
Mr McGuinness said the meeting had been very encouraging.
"We can have some considerable degree of confidence that the processing of the lowering of the corporation tax issue is something that is being taken very, very seriously and in which the Treasury is now very much engaged," he said.
"We expressed our reservations in the past about the role of the Treasury, but I think that as things progress further and as we see the outcome of the meeting this morning, we can have some considerable confidence that this issue is being taken very seriously indeed."
During the meetings, the chief executive of one of Northern Ireland's largest pharmaceutical companies, Almac, told Secretary of State Owen Patterson that his company would benefit greatly from a cut in corporation tax.
"I thought the star was the senior executive from Almac who said bluntly they would double their business - they would double the size of Almac, already employing 2,0O0 people in Northern Ireland if this came along," Mr Paterson said.
"I thought that just said it all.
"I've been hearing this for nearly four years now and I'm very, very keen that this issue of reducing corporation tax in Northern Ireland would make such a difference."
The current rate of corporation tax in Northern Ireland is 26% compared to 12.5% in the Irish Republic.
Speaking after the later meeting with Mr Cameron, First Minister Peter Robinson said: "We made it very clear what our programme would be for the next four or five years, that we are absolutely determined to face down the terrorists and that we intended to continue our road of stability and taking Northern Ireland forward."
The prime minister is due to visit Stormont on Thursday and is expected to address the assembly.
He is also due to meet Mr Robinson and Mr McGuinness at Stormont Castle.