NI Screen boss attacks 'staggering DCAL waste'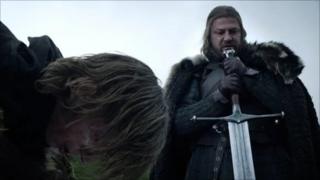 The body which promotes the film industry complained last year that the regulation imposed on it was "a waste of resources on a staggering scale".
The head of NI Screen told the Department of Culture, Arts and Leisure (DCAL) that staff had become "totally consumed with inward facing paperwork".
The row came after DCAL highlighted "a number of significant governance failures" at NI Screen.
Both have now said they have worked to resolve their differences.
'More flexible'
NI Screen's remit is to administer public money to boost the film industry in Northern Ireland.
Its successes include attracting the American television channel HBO to shoot parts of a number of television series in the Paint Hall in the Belfast Harbour area.
The rules governing how the organisation is run were detailed in a document known as a Management Statement and Financial Memorandum (MSFM).
Last autumn, NI Screen chief Richard Williams wrote to the most senior civil servant in DCAL, Rosalie Flanagan, to tell her that those structures were not appropriate for delivering the film industry's maximum potential.
He added that he wanted them adjusted to allow NI Screen to operate in "a more flexible, more market orientated way".
"I have had direct contact with 28 DCAL representatives over the last six months. That only one of these people appeared tasked with any interest in outcomes illustrates something further," he said.
"As someone used to working in or with the private sector, the waste of resources is on a staggering scale."
He added that dialogue between DCAL and NI Screen was "regularly characterised with a damned if you do, damned if you don't dynamic."
'Cluttered approach'
He went on to highlight how a number of other creative industry initiatives backed by DCAL and Invest NI had "contributed to a cluttered and public sector heavy approach to the creative industries".
"At a recent meeting about a modest film related digital media project, the public sector was represented by two Invest NI executives with a third sending apologies, an executive from the Arts Council representing the Creative Industries Innovation Fund, a representative of Belfast City Council with further apologies from DCAL's new Head of Creative Industries as well as me.
"Even before the present public sector funding crisis, I do not see how Northern Ireland can justify this level of public resources devoted to a small project."
Mr Williams' concerns about governance arrangements appear to have been echoed by NI Screen's chairman Rick Hill at a meeting with DCAL Permanent Secretary Rosalie Flanagan last August.
In a letter to Mr Hill the following month, Ms Flanagan recounted how he had told her that the "current regime is hindering Northern Ireland Screen's ability to carry out its business and meet its objectives".
Failure
She countered by highlighting a number of significant governance failures in NI Screen "including failure to prepare business cases, failure to obtain appropriate approvals and failure to follow proper procurement procedures."
In his response, Mr Hill reiterated his concern at the MSFM.
"Since the Board approved the MSFM, our independence has been reduced and our ability to deliver our mission has been severely curtailed," he said.
"We work in a business environment in which decisions often need to be taken swiftly - HBO could just as easily have located in Hungary or the Republic of Ireland.
"If we move swiftly we risk breach of MSFM, if we don't we risk losing significant inward investment. The MSFM doesn't work in practice."
In a statement to the BBC, Mr Williams said that his organisation was working with DCAL and other parties to deal with the issues raised.
"I don't think it will come as a surprise to anyone that we argue sometimes with our government sponsors," he added.
A DCAL spokesperson said it had worked with Northern Ireland Screen to streamline accountability procedures.
She added that the department wanted to "achieve the optimum balance between providing relevant assurances to the DCAL accounting officer, who has a responsibility to ensure that taxpayers' money is properly used, and enabling Northern Ireland Screen to operate efficiently."