Remains of woman found in Belfast house identified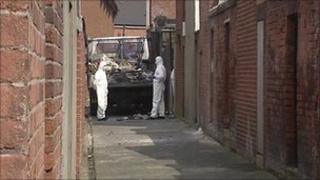 Police have identified the human remains of a woman whose body may have been at a vacant house in south Belfast for over a year.
The remains were found among rubbish during the clearance of a house in the Village area in April.
She was Julieann Watson, 37, whose last known address was in the area.
A post-mortem examination revealed that her body may have been in the vacant property in Donegall Avenue for over a year.
In April, police said the cause of death was still unclear but there were no obvious signs of violence.
Neighbours had noticed a pungent smell for some months and had contacted the authorities.
Contractors were then sent out to clear the house.
Police said on Thursday their enquiries into the death were continuing.