McGuinness relative Marvin Canning charged over rally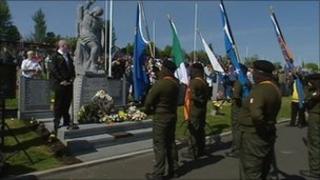 A brother-in-law of Deputy First Minister Martin McGuinness has appeared in court charged over a dissident republican rally in Londonderry.
Marvin Canning, 49, is accused of committing two terrorist offences at a 32 County Sovereignty Movement Easter Monday parade in the city cemetery.
Mr Canning of Glendara in the Brandywell area denies the charges.
He was released on bail to appear again on 7 July. His bail conditions include having to wear an electronic tag.
There was a heightened police presence both inside and outside the Bishop Street court building in Derry.
A police officer video recorded associates of the defendant as they arrived for the court hearing.
Mr Canning, who was arrested on Tuesday, is charged with arranging, managing or assisting in arranging or managing a meeting which he knew to be in support of a proscribed organisation namely the IRA.
He is further charged with aiding and abetting, counselling or procuring persons wearing the uniform of a proscribed organisation, namely the IRA.
'Colour party'
A PSNI detective sergeant told District Judge Barney McElholm that members of a police helicopter video team recorded the defendant driving members of a paramilitary colour party at the Easter Monday commemoration event.
He said the police were objecting to the defendant being granted bail because they believed he may interfere with witnesses at that he may pervert the course of justice.
Applying for bail, defence solicitor Peter Corrigan said his client had told police officers that he did not agree with comments made by a masked man at the commemoration event.
The man, puportedly from the Real IRA, threatened members of the PSNI and members of the nationalist and republican communities who supported the police.
Mr Corrigan also said his client had no relevant previous convictions.
The district judge released the defendant on his own bail of £1,000 together with one surety of £1,000 to appear in court again on 7 July.
As well as the electronic tagging and he must observe an 8pm to 8am curfew. He was further ordered to reside at an address in Galliagh Park.