Restrictions placed on Tour of the North parade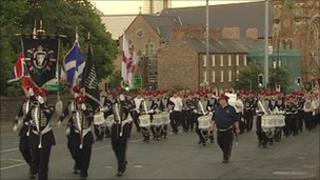 The Parades Commission has restricted two feeder parades for the Orange Order's Tour of the North from passing part of the Ardoyne area.
In its ruling the commission said there had been a willingness on both sides to talk, but that no agreement had been reached on the north Belfast route.
The commission added that community relations in the area were fragile.
It said that it had to consider the potential for public disorder in making its determination.
The annual Tour of the North parade is seen as one of the most contentious of Northern Ireland's marching season, with violent scene in previous years.