Margaret Mountford on life after The Apprentice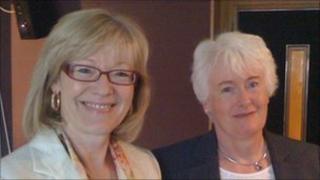 Is The Apprentice still as good? And does she miss being on TV?
Holywood-born Margaret Mountford was on Talkback with me on Thursday talking about the programme on which she starred as Sir Alan (now Lord) Sugar's right hand woman.
Retired corporate lawyer Margaret went to school at Strathearn in Belfast before studying at Cambridge and going into a London city law firm.
She was a top advisor to Lord Sugar on many of his big deals, but told Talkback that television didn't come naturally to her when she moved into her Apprentice role.
I asked her: "What about dealing with what one commentator once described as a 'massed field of muppets'?"
She laughs, and raises the famous eyebrow, which she reveals "rather took on a career of its own".
Does she watch now?
Future
"Not really, although I did watch one episode on the basis that I was bound to be asked about it here," she said.
"It was time to move on, and not look back."
"What about Jim?", I asked.
It's a difficult balance for any contestant, whether to attract attention or not.
"Could he win?"
"They all could," said Margaret.
Well, she always did play her cards close to her chest.
Margaret was in Northern Ireland with the National Trust, raising awareness about projects at the Giant's Causeway and at Mountstewart.
In place of the day job, she's studying hieroglyphics in Ancient Egypt.
"I'm hoping to get my PhD before the zimmer frame!"