'Lethal intent' in Coalisland attack McKeever case told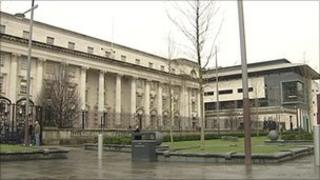 A court has heard it would have been reasonable for the soldiers who shot four IRA men in 1992 to have believed the gang had just killed RUC officers.
The soldiers killed the four IRA men in Clonoe, County Tyrone, after the gang had carried out a machinegun attack on Coalisland police station.
Another man who was shot and injured is suing the MoD.
A US defence expert told the high court the soldiers would have been unaware no RUC officers had been killed.
William Hays Parks, who was called as an expert witness for the defence, told the high court it was reasonable to suspect fatalities given the "lethality" of the assault on the Coalisland base.
Soldiers later opened fire on the IRA men as they dumped a lorry used in the machine-gun attack.
Aidan McKeever, who was unarmed and not among those who carried out the attack, said he was shot in the chest as he tried to get out of his car in the area.
He was later convicted along with two other men of aiding and assisting offenders in relation to the attack and given a suspended sentence.
He is suing the Ministry of Defence for assault and battery and what he claims was unreasonable force.
Mr Parks accepted that the security operation was "not without flaws" but said the volume of fire directed at the RUC station could have led to a belief that officers had been hit.
In cross-examination counsel for Mr McKeever put it to him that the soldiers had intelligence of the IRA attack.
"Therefore it was presumably known to the military that police would have taken proper precautions to ensure no police were killed within the police station," the barrister said.
Mr Parks said this would have been speculation due to the level of "lethality" involved.
He said: "I have seen nothing to suggest soldiers had received a report that there were no casualties.
"It also suggested there was certainly an intent (by) the active service unit to kill persons inside the RUC station. They did not know individuals inside the station had been told to hunker down."
The judge hearing the case questioned what methods could have been used to try to arrest the driver of the car at the scene.
Mr Parks told him one way involved shooting at the vehicle.
"You normally have to shoot at the engine," he said.
Mr Justice Treacy asked for any other ways a soldier could have carried out an arrest.
The expert replied: "Not unless he's a very fast runner."
Following his evidence the case was adjourned until next week.