Executive ministers in north-south meeting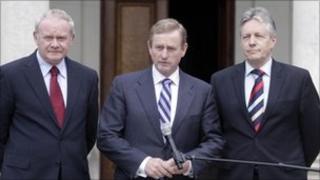 Stormont executive ministers are in Dublin to meet their Irish counterparts.
Taoiseach Enda Kenny is hosting the North-South Ministerial Council meeting.
Mr Kenny, NI First Minister Peter Robinson and Deputy First Martin McGuinness paid tribute to the late Brian Lenihan when they arrived.
Mr Lenihan, who had been suffering from pancreatic cancer, died aged 52 on Friday.
Earlier, Culture Minister Caral Ni Chuilin arrived along with her special adviser Mary McArdle.
It was Ms McArdle's first appearance in public since the controversy over her appointment.
She was convicted of the murder of Belfast school teacher Mary Travers in 1984.
A key issue up for discussion at the North-South meeting is the all-island road network, including the proposed £800m A5 dual carriageway linking Londonderry and Aughnacloy.
The Irish government has pledged £400m towards the project ahead of an inquiry into the route.
The meeting will also look at the role of north/south bodies. Nationalists want more of them, but unionists question their value for money, particularly in tough economic times.
However, the main purpose of this meeting will be to give ministers from both jurisdictions the chance to get to know one another.
It is the first meeting since the Fine Gael/Labour coalition government took power in the Republic of Ireland.
Many of their Northern Ireland counterparts are also new following the assembly elections.
The first and deputy first ministers are also expected to make a courtesy call on Irish President Mary McAleese