Demolition of houses in the Village area gets under way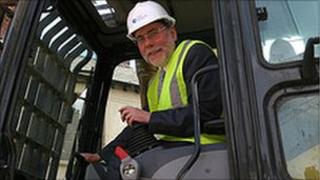 Demolition work has begun in the Village area of south Belfast as part of a scheme to regenerate the area.
Forty homes in Lower Rockview Street were knocked down on Thursday to allow for 36 new homes to be built later this year.
The Village area is one of the most deprived in the city, many houses have no inside toilets.
The Department of Social Development has earmarked 600 homes for demolition.
DSD Minister Nelson McCausland watched the demolition work begin.
"Through its very name the Village has been an important community area in Belfast for many years," he said.
"Unfortunately, the worsening housing conditions over those years led to the declaration of the Village as a redevelopment area.
Attractive
"We are now seeing the start of the regeneration of this proud area through demolition of unfit housing to make way for new homes built to very high standards."
Mr McCausland said he was confident the Village would become attractive again in the coming years and that people would want to live and bring up their families in the area.
"To achieve this, it is vital that local people are involved in helping design the housing solutions to meet the needs of the people of the area," he said.
"Gaining commitment from local people is key to building successful communities."
The minister concluded: "The first phase involving the construction of 36 new homes will get underway later this year and will be an important milestone in the journey towards a new Village."
Housing Executive chairman Brian Rowntree welcomed the demolitions: "This is a good day for residents and will allow the regeneration of the Village to begin in earnest.
"These demolitions are the first tangible evidence of our close working with local people and will allow us to proceed with our plans for redevelopment, which we consider are the best way to sustain the Village community.
"Our proposals will not only address poor housing conditions in the area but will provide a balanced approach to the retention and improvement of existing housing as well as the provision of new build housing."