Former Irish finance minister Brian Lenihan has died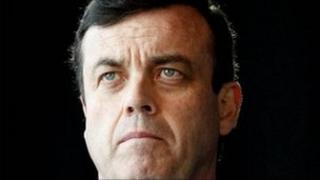 Former Irish finance minister Brian Lenihan has died at the age of 52.
Mr Lenihan, who was suffering from pancreatic cancer, was a member of the Fianna Fail opposition party.
As finance minister, he agreed the 100% bank guarantee and signed the bail-out deal with the IMF, the European Union and the European Central Bank.
He was a member of a political dynasty with his father Brian, his brother Conor, and his aunt Mary O'Rourke all serving in Irish governments.
Mr Lenihan had been fighting cancer since December 2009.
He had undergone intensive chemotherapy and radiotherapy treatment at the Mater Hospital in Dublin.
He had served as minister for justice and as the minister for children in previous Fianna Fail administrations.
Since Fianna Fail left government in March, he had continued to act as Fianna Fail finance spokesperson.
He is survived by his wife and two children.
The Irish prime minister Enda Kenny said Mr Lenihan had been exemplary in carrying out his public duties.
"He exemplified a great sense of humanity in the public representation he gave.
"I'd like to say I've known Brian Lenihan for many years and regard him as a friend in politics."
Mrs O'Rourke told Irish state broadcaster RTE: "It's all over. It's kind of unbelievable.
"He always worked for his country and he worked for the best of Ireland and I suppose in the end what anybody in public life would wish to do, and that's what he did.
"I just feel my life has almost ended, I really do."
Fianna Fail leader Micheal Martin said he was "deeply saddened" by Mr Lenihan's death.
"Brian has fought a brave and courageous battle with a serious illness over the past 18 months," he added.
"In all of this time, Brian never once flinched from his public duties and he showed an unceasing and untiring commitment to tackling the economic crisis facing this country."