Mayor upsets unionists by removing royal portraits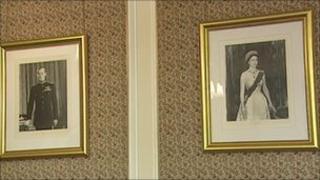 The Sinn Fein Lord Mayor of Belfast has upset a DUP councillor by removing portraits of Prince Charles and the Queen Mother from the Lord Mayor's parlour.
Niall O'Donnaighle has replaced the images with the 1916 Proclamation and a portrait of the United Irishmen.
He said he is creating balance by retaining portraits of the Queen and Prince Philip.
Christopher Stalford criticised the move.
Mr O'Donnaighle said Mr Stalford's criticism was not reflected on the ground.
He said his decision to put two royal portraits in storage in favour of republican and nationalist symbols was designed to reflect more fully all sections of the city.
"The thinking behind it was to begin the process of trying to make this parlour, which is a civic space and a shared space for the city, more open, more inclusive and more representative of the many traditions in Belfast," he said.
"I have begun a process to try to make this place a bit more reflective of Belfast as a whole."
Mr Stalford complained that the Queen and Prince Philip's portrait have been moved behind the door.
He questioned why, if the new mayor wanted to be inclusive, he was not intending to go to the Cenotaph and lay a wreath.
Mr O'Donnghaile was elected lord mayor last month.