Brian Lenihan death 'overshadows' north-south talks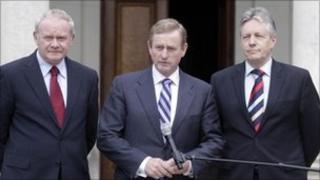 Deputy First Minister Martin McGuinness has admitted that Friday's North-South Ministerial Council meeting had been overshadowed by Brian Lenihan's death.
Mr Lenihan, the former Irish finance minister, died aged 52 on Friday.
However, Mr McGuinness said the talks had still been a very "thoroughgoing engagement".
First Minister Peter Robinson said among the issues discussed were the A5 road scheme, Altnagelvin radiotherapy unit and the Quinn Insurance Group.
It was the first meeting of the council since the Fine Gael/Labour coalition government took power in the Republic of Ireland.
Mr Robinson said he was "very encouraged" by Mr Kenny's style of engagement.
He said if ministers from either administration had problems they needed to work out with their counterparts they would not have to wait for the next formal meeting, but instead talk directly to the minister concerned.
'Genuine interaction'
Mr Kenny said there had been "genuine interaction between ministers from the executive and ministers of the government".
He said the two administrations discussed where savings could be made in cross-border issues.
Mr McGuinness said the talks had "dealt with issues of major importance to all of the people who live on this island".
Earlier, Culture Minister Caral Ni Chuilin arrived along with her special adviser Mary McArdle.
It was Ms McArdle's first appearance in public since the controversy over her appointment.
She was convicted of the murder of Belfast school teacher Mary Travers in 1984