Limavady man 'threatened to set himself on fire'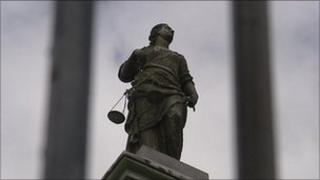 A Limavady man poured petrol over himself and threatened to set himself on fire following a row with his partner, a court has heard.
A police officer told Londonderry Magistrates Court that the incident caused a stand-off at his home in Greystone Park in the town.
David Lee Craig is charged with attempted arson endangering life.
The defendant, who has mental health issues, was released on bail to become a ward of the Western health trust.
The police officer said the defendant had poured petrol over himself, barricaded himself in the sitting room of his home and surrounded himself with lit candles while holding a lighter.
He later thanked police officers for persuading him not to carry out his threat to set himself on fire.
The judge said that if he had carried out his threat, it could have caused injuries to his neighbours and members of the emergency services.