Killers of senior RUC men Breen and Buchanan 'cheered'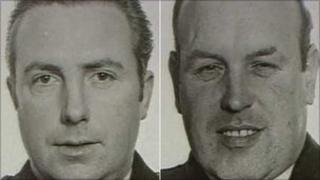 The Smithwick Tribunal in Dublin has heard that a gang who killed two senior RUC officers in south Armagh 22 years ago cheered as they drove off in a van.
Five eyewitnesses have described how the IRA carried out the ambush near Jonesboro on 20 March 1989.
The inquiry is investigating alleged collusion between Gardai and the IRA into the killings of the officers.
Chief Superintendent Harry Breen and Superintendent Bob Buchanan were shot dead after meeting gardai in Dundalk.
Finbarr King, a former soldier in the Irish army, described how he drove along Edenappa Road in south Armagh on the day of the attack and was stopped at a roadblock.
Forced to lie face down, he said up to five people got out of a van and opened fire on the car carrying the two RUC officers.
He said that as the gang got back into the van to drive away, they shouted: "Hurrah."
'Told to go'
Earlier, a former RUC information collator contradicted evidence given by a one-time assistant chief constable.
On Friday, the collator said the pair had been told to go to the meeting.
The previous day, a former assistant chief constable known as witness 18, said Chief Supt Breen had been instructed not to travel to Dundalk during a meeting in Armagh on 16 March 1989.
He said he had passed on the comment from Chief Constable Sir John Hermon.
The two senior police officers were due to go to Dundalk to discuss a joint policing operation targeting top republican Thomas 'Slab' Murphy.
However on Friday, the former collator said Harry Breen had not been at that meeting and that witness 18 had actually instructed Supt Bob Buchanan to go to Dundalk four days later on March 20.
He said if Supt Buchanan was given an order, he would definitely obey it.
The inquiry, which has a November deadline for completion, is due to hear evidence from 214 witnesses including former RUC Special Branch officers, DUP MP Jeffrey Donaldson and journalists Kevin Myers and Toby Harndon.