Francois De Dietrich's solicitor told to attend court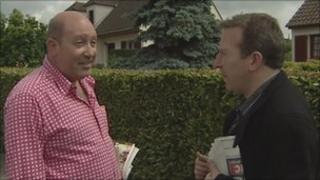 A High Court judge has ordered a solicitor to appear before him after describing his absence in court on Friday as "completely unacceptable".
The solicitor represents fugitive Frenchman Francois de Dietrich, suspected of a multi-million pound scam
In January, Mr Justice Deeny sentenced him to 18 months for failing to fully disclose his worldwide assets. He issued a warrant for his arrest.
The judge said the solicitor must appear before him on Monday.
The court may question the solicitor about the whereabouts of his businessman client.
The court heard on Friday that a BBC Northern Ireland Spotlight programme broadcast earlier this week had located the businessman in France.
However, the judge was told that his solicitor was unavailable due to involvement in a criminal case in Dublin.
'Answer orders'
Mr Justice Deeny said: "He was directed to attend here this morning in case it was appropriate to put direct questions to him as an officer of the court about the whereabouts of his client.
"He will answer orders of this court while he's an officer of this court. He is to be here at 9.45am on Monday morning."
He added: "I don't want any nonsense about trials in Dublin. He is a solicitor of the supreme court of Northern Ireland."
De Dietrich is due to appeal his sentence for contempt and insists his business is legitimate.
Dozens of people on both sides of the Irish border fear they may have lost millions of pounds in investments they made in liquidated stock through him.
Members of the business community, sporting figures and Travellers are thought to have handed over money.
Court proceedings launched by the Financial Services Authority led to an injunction banning de Dietrich and his company ETIC Solutions from taking any more deposits.
Injunction
The regulatory body also obtained an initial order freezing more than £20m in assets linked to the businessman.
On Friday, lawyers for the FSA also set out details of five bank accounts in Northern Ireland covered by the injunction.
Two of them are in the name of ETIC in Derry, with one said to be holding £4.3m.
A third account, under F&S Elephant II, had over £100,000 in it but has since been severely depleted, the court heard.
Another one linked to a restaurant business operated in both Belfast and Derry is almost £30,000 in credit.
Stephen Shaw QC, for the FSA, said a fifth account in the name of de Dietrich himself held £43,000.
Mr Shaw said the businessman has failed to co-operate with his client as it tried to protect investors' money.
He added: "There is no good reason why the funds of investors should be put at risk to pay for his misdemeanours.
"The injunction is aimed at protecting the public interest, especially the interest of investors whose monies were invested with Mr de Dietrich, who stands in contempt and continues to stand in contempt because he has not disclosed the assets he has."
The hearing will resume on Monday.